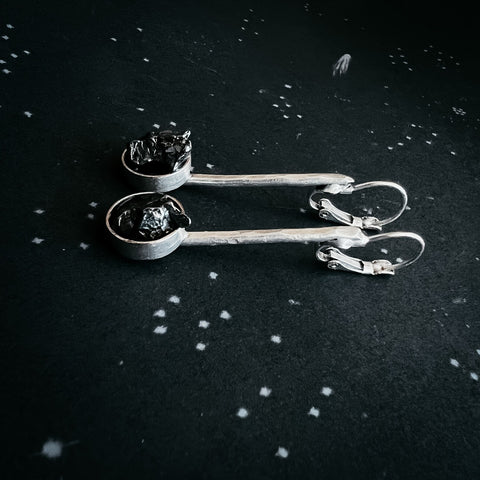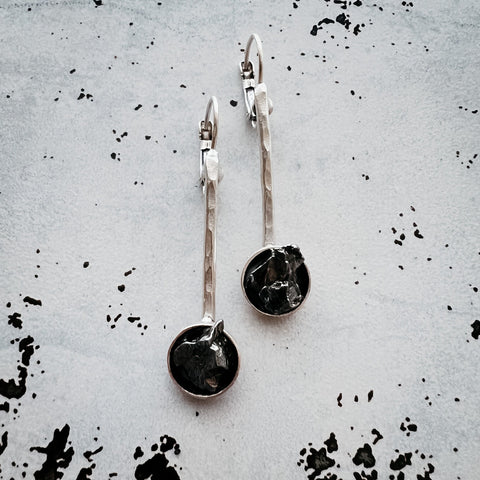 Simple Round Meteorite Drop Earrings
Pickup currently unavailable
We are made of star stuff - now your celestial jewelry is, too! Beautiful and simple pair of matte silver drop earrings with raw authentic Campo del Cielo meteorite set in a round bezel. Unique dangle earrings with a piece of the universe and finished off with leverbacks. Everyone needs a bit of the cosmos! A unique pair of outer space earrings - a great gift for the scientist or stargazer in your life!

THIS IS GENUINE authentic meteorite. Each stone is different and will vary in shape and style. Meteorite does contain nickel and iron, though it is not in an area that comes in contact easily with your skin. But if you have sensitivities to these metals, please be aware that the authentic meteorite does contain these elements. Comes with a signed certificate of authenticity.
Size: 2" x 0.5" (50mm x 12mm). Type: Lever-back / Dangle. Materials: rhodium plated brass, raw meteorite
★ These are individually handcrafted and the particular piece you receive may vary slightly from what is pictured. These are also not 100% waterproof, so please avoid getting them wet.